Gibson Guitar Still Waiting to Clear Its Name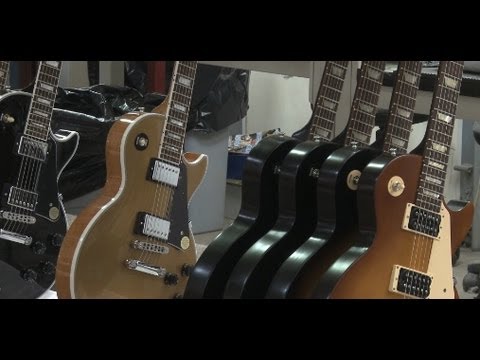 Last August, federal agents raided and briefly shut down the Gibson Guitar factory in Nashville, TN. They accused the company of violating the Lacey Act by improperly classifying wood for guitar fingerboards that they imported from India. The act makes it a crime to import certain products with the goal of protecting endangered plants and animals. Six months later, the company still hasn't been charged with any crimes and has yet to have its day in court to clear its name. Reason.tv talked with Gibson Guitar CEO, Henry Juszkiewicz who said, "This is not about responsible forestry and sustainable wood or illegal logging, this is about a bureaucratic law."
Sen. Rand Paul (R-KY) has introduced the FOCUS Act to reform the Lacey Act. Earlier this month, Lisa Rickard, president of the U.S. Chamber Institute for Legal Reform (ILR) applauded the bill:
The underlying goals of the Lacey Act, including protecting endangered species and promoting stewardship of environmental resources, can and should be upheld, and federal laws ought to give prosecutors the necessary criminal enforcement tools to pursue bad actors.  But defects in the Act have led to some of the worst examples of overcriminalization. Whether the Act is used to secure jail terms against importers of Honduran lobsters because they did not package the product according to foreign law or whether it serves as the basis for repeated raids against the Gibson guitar facility for alleged violations of Indian export laws, the Act is ripe for meaningful reform.
Gibson's most famous guitar is named after Les Paul, the Wisconsin native who invented the electric, solid-body guitar. For a musical interlude, here's Paul playing "Sleepwalk" on a Gibson.