VIDEO: U.S. Chamber Remains Committed to Advancing Immigration Reform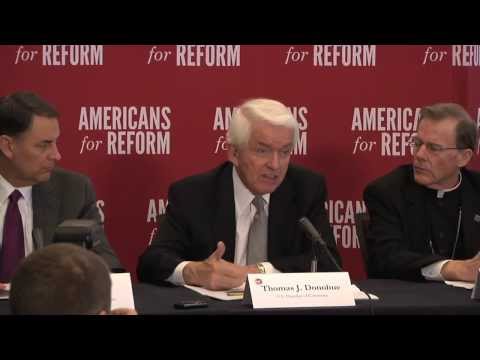 In case Congress didn't hear the demands for immigration reform from some 600 leaders in the faith, law enforcement, and business communities during a mid-October rally in Washington, D.C., leaders from those communities held a press conference at the U.S. Chamber today to reinforce the message.
U.S. Chamber President and CEO Tom Donohue stated that immigration reform "is good for the country, it's good for the economy, it's good for American companies, and, yes, it's very good for American workers." Watch Donohue's remarks in the video above.
Other speakers at the press event were Dr. Russell Moore, president of the Ethics and Religious Liberty Commission of the Southern Baptist Convention; Grover Norquist, president of Americans for Tax Reform; Jay Timmons, president and CEO of the National Association of Manufacturers; Greg Zoeller, Indiana attorney general;and Bishop John C. Wester of Salt Lake City and Chairman of USCCB Communications Committee.