Obamacare Truth: "If You Like Your Plan You Can Keep Your Plan … for a While"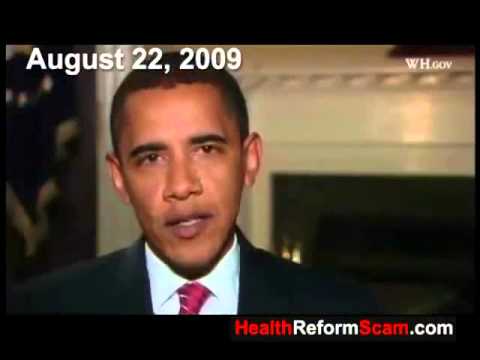 Health and Human Services (HHS) Secretary Kathleen Sebelius sat on the hot seat yesterday, taking questions from House Members on the poor launch of HealthCare.gov. She's also got heat for health insurance policy cancellation letters being sent to millions of Americans.
Throughout the health care reform debate, we heard President Obama say, "If you like your plan, you can keep your plan." The law was sold as a way to expand coverage and controlling ever-rising health care costs without dramatically affecting those who were happy with their plans.
In 2009, the President tried to clarify his campaign line to ABC News:
"When I say 'If you have your plan and you like it,… or you have a doctor and you like your doctor, that you don't have to change plans,'" the president said after we asked him about this, "what I'm saying is the government is not going to make you change plans under health reform."
NBC News reported on Tuesday that the administration admitted that it broke this promise. The Obama administration expects
that 50 to 75 percent of the 14 million consumers who buy their insurance individually can expect to receive a "cancellation" letter or the equivalent over the next year because their existing policies don't meet the standards mandated by the new health care law. One expert predicts that number could reach as high as 80 percent. And all say that many of those forced to buy pricier new policies will experience "sticker shock."
What is worse is that this is by design.
Under the letter of the law, health plans that don't offer the law's mandated essential health benefits were permitted to be "grandfathered" and offered as they were prior to the law's enactment as long as they aren't "significantly changed." However, HHS shortly after the law was enacted issued regulations that specified that a health plan would lose grandfathered plan status if any part of the policy significantly changed. For example, a Wall Street Journal editorial notes, "Even minor policy changes, such as increasing a copay by as little as $5, means that a plan cannot be renewed without rewriting it to obey all of ObamaCare's regulations."
What the administration couldn't do legislatively it did with regulations. Beyond defying the proper legislative and regulatory processes, this illustrates the length the administration will go to impose its one-size fits all view of what the American people need. TheWall Street Journal editorial continues:
HHS believes as a matter of political philosophy that everyone should have the same kind of insurance, and in the name of equity it wrote rules dictating the benefits that all plans must cover and how they must be financed.

In most cases these mandates are more comprehensive and thus more expensive than the status quo, but the ObamaCare refugees aren't merely facing higher costs. The plans they want and are willing to pay for have been intentionally outlawed.
This isn't a surprise to Free Enterprise readers. Here's what I wrote in 2012 about grandfathered plans and Obamacare's broken promise:
Health care experts knew when the Patient Protection and Affordable Care Act (PPACA) became law that the president's promise would be broken, and new data out this week confirms that. According to the Kaiser Health Foundation's annual Employer Health Benefits Survey, the percentage of Americans in grandfathered plans—those that are not subject to the full regulatory thrust of the PPACA—fell from 56% in 2011 to 48% in 2012.

In fact, even the administration's regulators knew and acknowledged this when they issued rules to implement the law.  On page 34553 (page 17 of this document) of the rules implementing the PPACA is a table estimating what percentage of employer plans would lose their grandfathered status. For 2012, regulators figured that between 36% and 66% would vanish--and they were right. In 2013, that trend should continue with anywhere between 35%-80% of employer health plans losing their grandfathered status.
Also, as far back as 2010, in comments to the administration on grandfathered plans, the U.S. Chamber warned that the President's promise would be broken [emphasis mine] :
In defining permitted changes so prescriptively, the Departments' (Treasury, Labor, and Health and Human Services) approach not only goes beyond the intent of the statute, but makes the Administration's promise impossible both for those offering coverage and those wishing to keep their current coverage. In the IFRs (Interim Final Rules), the Departments choose to assess plans (and, by extension, the Departments' commitments to the "keep your coverage" promise) using a "snapshot" perspective and comparing any fluctuations in a plan to the precise plan in existence on March 23, 2010. With this approach, the IFRs essentially ensure that all plans will lose grandfathered status within a couple of years.

The Departments' approach, which will frustrate the stated design and purpose of the statutory provisions and the regulations that attempt to implement it, is confirmed in the preamble. These interim final regulations are designed to ease the transition of the healthcare industry into the reforms established by the Affordable Care Act by allowing for gradual implementation of reforms through a reasonable grandfathering rule.

Therefore it appears that, in the Departments' view, the grandfathered plan rule is to be merely a transition rule. In other words, "If you like your plan you can keep your plan, for a while." This is not what the Administration promised and is not what Congress intended. There is no basis for this position in the language of the statute.
In short: We knew that they knew.
Now, millions of Americans are getting health insurance cancellation letters. Their available options will likely involve paying higher premiums and having higher deductibles and co-pays.
Illinois resident, Sue Klinkhamer, is one example:
When Klinkhamer lost her congressional job, she had to buy an individual policy on the open market.

Three years ago, it was $225 a month with a $2,500 deductible. Each year it went up a little to, as of Sept. 1, $291 with a $3,500 deductible. Then, a few weeks ago, she got a letter.
Ironically Klinkhamer spent two years working for a Congressman who voted in favor of the health care law.
Another example is George Schwab, a North Carolina man who talked to NBC News:
[T]his past September, he was surprised to receive a letter saying his policy was no longer available. The "comparable" plan the insurance company offered him carried a $1,208 monthly premium and a $5,500 deductible.

And the best option he's found on the exchange so far offered a 415 percent jump in premium, to $948 a month.

"The deductible is less," he said, "But the plan doesn't meet my needs. Its unaffordable."
For those booted off the plans they liked, their only real choice is going to the barely-functioning HealthCare.gov, and hope they make it through the process. They could call the 1-800 number as President Obama suggested, but applications "have to get entered into the same lousy website that is causing the problems in the first place." Another option is the mail (yes, in the 21st Century), however, as the Daily Caller's Matt Lewis points out, the paper application process doesn't work either.
What's more, as CBS News' Scott Pelley reports, "The problems with the law… go far beyond the government's website." Some insurance companies aren't offering insurance in the exchanges, and an Illinois insurance broker expects nine out of ten of his customers will pay more for health insurance.
It's good that President Obama demands that HealthCare.gov be fixed pronto, but the problems go beyond a broken website.
Millions of Americans are facing a cold truth: The health insurance plans they like are being taken away for ones that are more-expensive, and if they want to shop for a new one on the much-touted exchanges, they're not working. At the same time, health care spending will continue to go up.
We need real health care reforms that offer consumers and employers greater choices, lower costs, and higher quality. Some suggestions for reform from the U.S. Chamber can be found here and here.