Mouthing the Administration on Energy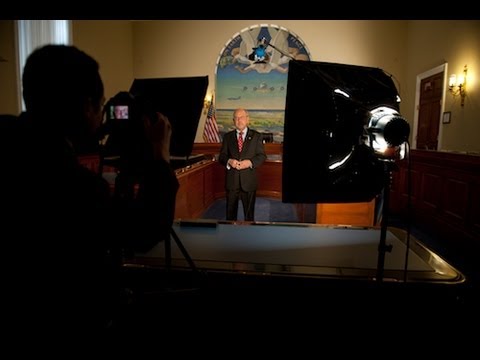 High gas prices have garnered the attention of leaders in Washington. This past weekend, the President talked about energy development in his weekly address, and the chairman of the House Natural Resources Committee, Rep. Doc Hastings (R-WA) covered energy in the Republican address [see above].
A New York Times editorial today follows the weekend talk by buying into this administration's talking points that their policies are responsible for the increase in production:
Domestic crude oil production is actually up from 5.4 million barrels a day in 2004 to 5.59 million now; imports have dropped by more than 10 percent in the same period. Despite a temporary slowdown in exploration in the Gulf of Mexico after the BP oil disaster, the number of rigs in American oil fields has quadrupled over three years. There have been new discoveries and the administration has promised to open up more offshore reserves. To say that Mr. Obama has denied industry access is nonsense.
That's not quite right.
As I've pointed out before, Gulf oil production has gone down from 1.55 million barrels per day (mb/d) in 2010 to 1.32 mb/d in 2011, and the Institute for Energy Research points out that the increase in domestic production is from development on state and private lands, not federal lands.
The editorial writers also mention "modest restrictions" on offshore drilling. Living in New York, they're removed from what's actually happening on the ground (or I should say, "In the water") in the Gulf states. Let me remind the Times that a report put out by Greater New Orleans, Inc., last month shows that the average number of approved deep and shallow water drilling permits in the Gulf have fallen below the level prior to the 2010 oil spill. Workers and businesses have taken a hit from these "modest restrictions:"
Forty-nine (48% of all surveyed) companies reported laying off workers. Sixty-five (65.6%) companies surveyed reported no hiring or only replacement of lost employees. Of the companies that did hire, numbers were generally low with only one company reporting hiring over 50 workers in the last year. Some businesses have been cutting costs by reducing employees' hours and/or salaries. Thirty-eight companies reported reducing hours and salaries of employees, sometimes as much as 40% in order to avoid layoffs.
Finally, there's this line that's not all bad:
The only plausible strategy is to keep production up while cutting consumption and embarking on a serious program of alternative fuels.
Hmmm. This sounds like an "All-of-the-Above" energy strategy, only it doesn't cover the Keystone XL pipeline, says nothing about increasing oil and gas production on federal lands, and has no problem with raising taxes on domestic oil and gas producers—because somehow they think taxing them will lower energy prices.
The takeaway is the New York Times editorial page has no qualms regurgitating the administration's energy rhetoric.
And if you think I was tough, read historian John Gordon Steele's take on this editorial.