Labor and Industry Agree: Keystone XL Means Jobs and Energy Security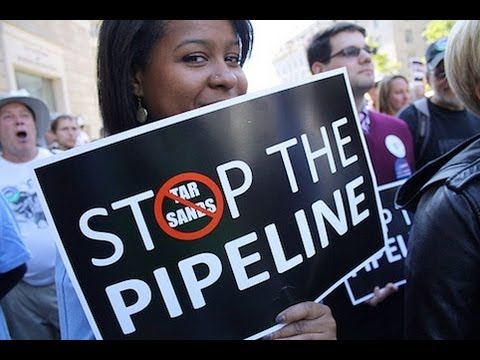 It's not a good sign when the biggest news from your protest is how many people showed up—or didn't show up. That's the lede of the Toronto Globe and Mail's coverage of a Washington, DC protest against the Keystone XL pipeline:
Organizers officially said 35,000 or more braved a cold, windy February afternoon for the protest, but turnout seemed significantly smaller. Even some of the protesters who had journeyed cross-country for the widely promoted Forward on Climate rally, voiced disappointment at the numbers.
This protest was a declaration to President Obama by environmental groups like the Sierra Club that Keystone XL should not be built. 
While they urged the President to again reject Keystone XL, they ignored the economic and national security benefits from the construction and operation of the pipeline. At a press conference at the National Association of Manufacturers (NAM), supporters from industry and labor talked about those missing pieces.
Matt Koch, Vice President for Oil Sands and Arctic Issues at the U.S. Chamber of Commerce's Institute for 21st Century Energy, pointed out that he heard from local chambers of commerce and small business owners who "understand the importance of the Keystone XL pipeline to American jobs and economic security." Jobs will be created, tax revenue will increase, and energy supplies will be made more secure.
Jay Timmons, NAM President and CEO said approving Keystone XL is the action that would meet President Obama's promise of an  "all-of-the-above" energy policy.
The southern leg of the pipeline currently under construction employs hundreds of people, many of whom are skilled craftsmen. One of those craftsmen is union member Billy Rogers. "Working on the Gulf Coast Project has afforded me a good income that allows me to support my family," he said.
There's also a national security component to Keystone XL. Navy Veteran Mike Hazard, who trains other veterans for United Association, a union representing pipe tradesmen, warned, "If Keystone XL isn't approved, the U.S. will continue to rely on oil from unstable regimes instead of strengthening our relationship with Canada.  Continuing to rely on oil from unstable political regimes would be counter intuitive to the values and ideals that inspire the volunteer spirit of the American military."
TransCanada's president of energy and oil pipelines, Alex Pourbaix put it bluntly: "Does the U.S. want its oil from a friendly neighbor in Canada and domestic sources like the Bakken play, or does it want to continue to import higher-priced foreign oil from nations that do not support U.S. values?"
That question didn't even cross the minds of anti-pipelines protesters.
For three more reasons for why the Keystone XL pipeline should be build, check out the Reason.tv video above.