American Jobs and Growth Agenda, Part 2: Expand American Energy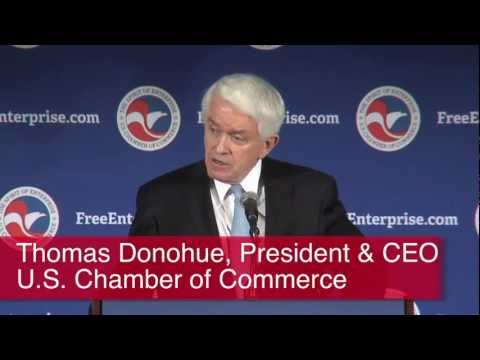 I previously covered why it's so important for the federal government to deal with its fiscal problems. The next pillar of the U.S. Chamber's American Jobs and Growth Agenda I'll cover is energy. In his State of American Business address, U.S. Chamber President and CEO Tom Donohue called energy, "a third bucket to draw from to address our deficits and debt." Producing more American energy can not only create jobs, and boost economic growth, but also pump new revenues into government coffers. Here's how.
First, note that in the past year, the number of oil and natural gas jobs has increased 6.5%. At the same time, full-time wages in the mining, oil, and gas explorations sectors increased 6% according to salary comparison website PayScale. More people working at higher pay means more tax revenue.
The energy boom has created jobs beyond the energy sector. Jobs have been created from construction, pipe manufacturing, sand mining, transportation, support services, restaurants, etc.  An IHS study determined that 1.7 million jobs are supported directly and indirectly by shale energy in energy-producing and non-energy production states, and it's expected to rise to 3.5 million by 2035.
Second, increased energy production boosts the coffers of strapped state governments. For example, Pennsylvania brought in $200 million from impact fee revenue in 2012. When you include taxes from workers and from royalties and fees, IHS found that shale energy contributed $63 billion in federal, state, and local taxes last year, and estimates that $2.5 trillion in revenue will be generated by 2035.
This new revenue is just from shale energy on state and private lands. As the Institute for Energy Research shows, billions would be raised "from the sale, rent and royalties of energy and minerals on government lands." But that would require policies to reverse the recent trend of falling oil and gas production on federal lands such as opening up more areas to offshore drilling.
America's energy security depends on more than just oil and natural gas production. We need infrastructure to transport it; we need to be able to export it; and we need to develop alternative energy sources, including nuclear energy and a facility to store nuclear waste. Here are some policies to make these things happen:
Regulators should approve p

ermits to build facilities to export 

liquefied natural gas (LNG) and coal to energy-thirsty markets in Asia and Europe.
The federal government should adhere to the law and establish a permanent

repository for nuclear waste

 to remove 

decades of policy uncertainty surrounding the nuclear energy.

The administration should resist anti-energy activists and approved construction of the northern route of the Keystone XL pipeline.
I'll conclude with Tom Donohue who sums up the opportunities at hand:
By fully embracing America's energy opportunity, we can accelerate growth, create millions of new jobs, free ourselves from some less-than-stable global suppliers, and create huge new revenues for government—which will help reduce budget deficits.
Posts in this series: