American Jobs and Growth Agenda, Part 1: Entitlement and Comprehensive Tax Reforms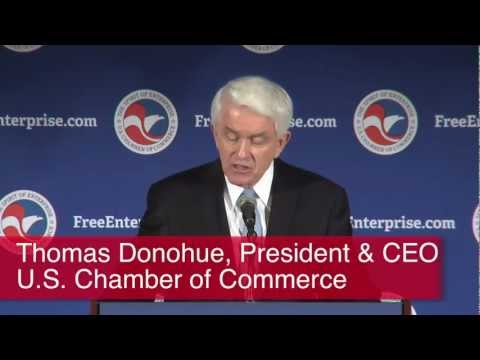 This week, I'll be digging into five key issues in the American Jobs and Growth Agenda launched by U.S. Chamber President and CEO Tom Donohue in his State of American Business address last week. The first topic is fiscal reform, specifically entitlement and comprehensive tax reforms.
Hopefully pundits and politicians have gotten gimmicky ideas like a magical coin out of their systems. Such talk avoids the big issue of getting America's fiscal house in order. The problem can't be sugarcoated.  As Donohue put it bluntly:
As a nation, we must finally face up to the single biggest threat to our economic future—and that is our exploding national debt driven by runaway deficit spending, changing demographics, and unsustainable entitlements.
According to the Congressional Budget Office (CBO), mandatory spending set on autopilot by Congress accounted for 56% of all federal spending and the big three entitlement programs, Social Security, Medicare, and Medicaid,  amounted to 43.3% of total federal spending in Fiscal Year 2011.
The need for entitlement reform is two-fold. First, entitlements are on a path that will put a squeeze on the rest of the federal government. As seen in this chart, based on CBO data, we're on our way to having every dollar of federal revenues go to entitlements. 
"If we fail to address this threat, automatic spending will soon consume every dollar the federal government collects, leaving nothing for education, national defense, or other essential programs," said Donohue.
Second, because of changing demographics and improved life expectancies, these programs will implode and not be there for future Americans.
Entitlement reform would address much of the spending problem of our fiscal crisis, but we also need comprehensive tax reform to spark economic growth and improve America's global competitiveness. The economy has to grow faster to make a big dent in our persistently-high unemployment level. As Donohue said in his speech, reform that lowers rates, broadens the base, simplifies compliance, and encourages investment would "turbo-charge our growth, create jobs, and generate more revenues for government at all levels."
Taming a $16 trillion national debt and $1 trillion annual deficits is a daunting challenge, but if there's leadership in Washington that's willing to tackle entitlements and comprehensive tax reform, the fire hose of red ink can be tied shut, and investment can be unleashed to create jobs and boost the economy.
Tomorrow's post is on energy.
Posts in this series: